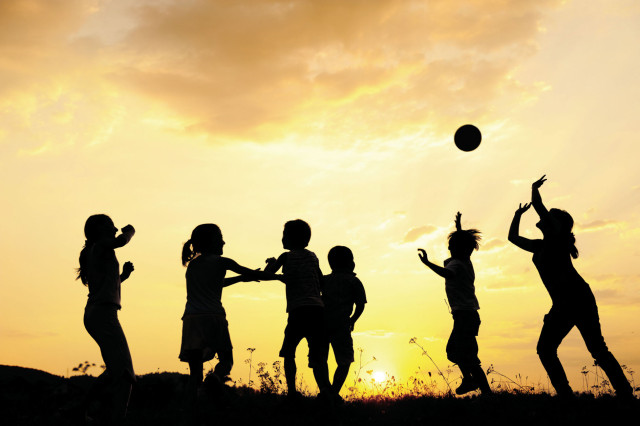 Summer is finally here! Barbecuing is in full swing. Many of us have already been out on the lake, hiking and/or camping. Flathead has so much to offer it's not hard to amuse yourself. And yet, many parents are gearing up for those dreaded words, "I'm bored….."
As a kid, my summers were spent outside. Not just because I loved being outdoors but because my parents had apparently read the same handbook everybody else's parent had read. Personally, I have never seen this parenting guide but it must have been widely distributed. The guidance it provided was universally accepted and repeated so incessantly a child had little recourse but to comply. For example, all parents knew they must warn their children not to run with sticks. Why? Because doing so would result in poking out an eye. As a child, much like now, I was inclined to question everything. (A habit that frequently left me smarting as a result). I remember observing the fact that children seem naturally inclined to run with sticks. I assumed this had always been so. That being the case, I was amazed I never met one-eyed children, or adults for that matter, because there were certainly plenty who had run with a stick in hand. Although I found myself skeptical regarding the stick and eye cause and effect scenario, I rarely questioned the guide's advice on summer. All parents I knew sent their children outside to play, all day. We'd often descend on a neighbor for lunch or, better yet, pack a picnic so we wouldn't need to head indoors. At that time of my life, eating cold pork and beans out of a can seemed like gourmet fare and there were many times when that was what I grabbed to head out on a summer adventure. Summer was never long enough.
The world has changed so much. It is no longer considered good parenting to lock your kids out of the house for the summer. Admittedly, a bit of an exaggeration, but you get my point. Nowadays good parents tend to engage more with their children and that is a very good thing. The challenge is in finding balance. Some parents find themselves responsible for entertaining their children or discover, that without electronics, their child is unable to amuse themselves. Some parents feel compelled to schedule every waking hour of a child's day. Without activity swirling around the child or something to plug into, many children complain, "There's nothing to do. I'm bored."
Why not commit this summer to helping the children in your life find some balance. Help them rediscover their imagination, learn a new skill, find the joy in helping others, explore the great outdoors, etc…. Help them unplug and destress.
Here are some ideas to kick start a summer of new adventures:
Build a fort. (Cardboard boxes, old sheets and blankets will suffice if they aren't ready for hammer and nails).
Have a picnic – in the fort, in the backyard, invite the neighbors, at a park, etc. The kids should help plan and prepare the picnic.
Write and illustrate a book, create a summer adventure journal, make a photo journal.
Take a hike, pick some berries, bake a pie.
Discover the joy of reading. Make a summer reading list with your children. The library has some great ideas for titles. Move through the list together and each time a book is finished celebrate. At the end of summer family members can present a book review of favorite titles. Mix up reading locations – remember my childhood. GET OUTSIDE. Read under a tree. In the fort with a flashlight.
Visit a farmer's market. Let the child choose food items they have never tried. At home, look up some recipes that use the new ingredients. Help the child create a meal.
Visit a farmer's market. Let the child choose some plants to make their own garden.
Make homemade pizza.
Collect items from a hike or nature walk. Once home, press the flowers or leaves. Create a collage with the found materials. Start a collection. Mat and frame some of the pressed flowers. Make a sand candle with some of the found items and a box of sand (or in the sand on a beach if you happen to get near a sandy beach this summer).
Feed the ducks at the park. Head back to the same park and see if you can identify any of the same ducks from the previous visit.
Learn to swim.
Get out on the water – go kayaking, fishing, swimming.
Have a backyard campfire roast hot dogs on sticks, (bagels on a stick are great for breakfast), don't forget s'mores.
Tie dye some old shirts.
Have water balloon fights.
Pick up trash at the park.
Volunteer at the food bank or animal shelter.
Start a business – sell lemonade, mow lawns, do chores or have a garage sale.
Ride bikes on a trail.
Practice making shadow puppets.
Make hand puppets from old socks and a puppet theater out of a cardboard box or a sheet over chairs. Put on a puppet show.
String beads and make jewelry. Take this up a notch and make your own beads. Salt dough clay works great for this. Or recycle some old magazines by turning them into beads – just cut long narrow triangles from the magazine pages, brush on some white clue, starting at wide end roll tightly over skewer, let dry. If you like the colors paint the finished product with clear nail polish, if not paint with colored polish.
Take up stargazing.
Practice origami.
Collect rocks and turn them into pet rocks by painting them.
Have a scavenger hunt. Once the kids get the idea of how this is coordinated they might even want to create a scavenger hunt for their friends. There are some great ideas for unconventional scavenger hunts online – like a fitness hunt, a puzzle hunt, a themed hunt where kids dress up and hunt for items related to the theme or why not a video/photo hunt where young people are turned loose with their smart phones or cameras to capture items instead of collecting them – they could locate a landmark to pose with, play duck duck goose near the ducks in the park, etc…
Yes, I know this last one really isn't unplugged – but if you are doing it outside – I think it counts.