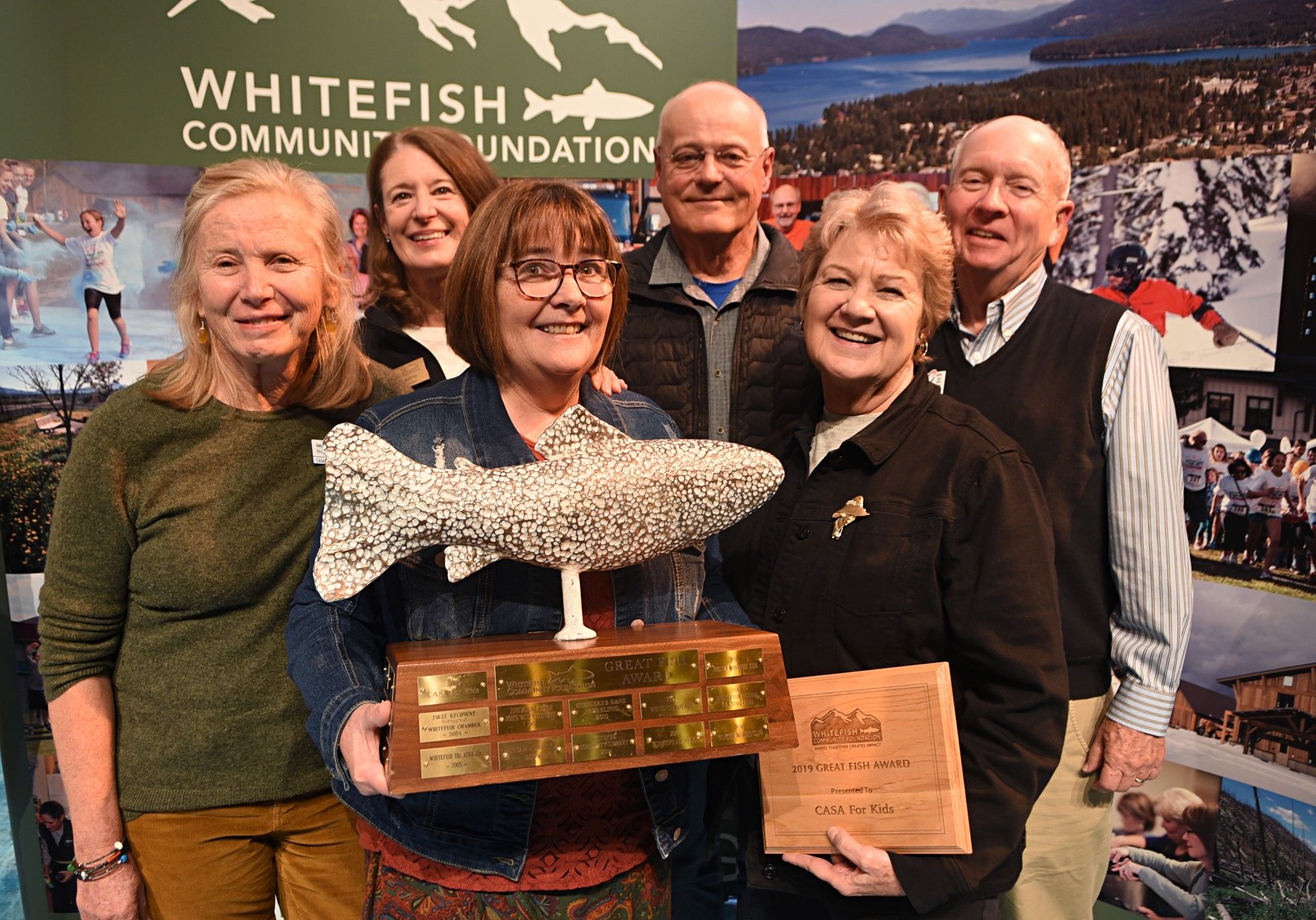 The evening had been one of celebration. Another successful year for the Whitefish Community Foundation's Great Fish Community Challenge - awarding $2,8 million dollars to the non-profits that had participated. The Great Fish is an innovative fundraiser inspires our community to give, raises awareness, and helps charities raise important program funding. In the end, charities earn a percentage matching grant from Whitefish Community Foundation
Non-profit staff and supporters had begun the evening socializing at Casey's Whitefish and then moved the party over to the Whitefish Performing Arts Center for the award ceremony. 
Sitting near the stage, I sat with my Executive Director, Jamie Campbell, and watched as the WCF staff, board members, and donors presented special grant awards to participating non-profits. I wasn't really expecting CASA to receive any special grants, having done very well in the Great Fish, raising $109,163.
The last award given is always the Great Fish Award - given to a non-profit that is making a significant impact in the community and for their outstanding participation in all areas of the challenge. As they began to describe this year's recipient - serving our community's most vulnerable and expanding services to another county - I suddenly realized they were talking about CASA for Kids. I turned to Jamie and said, "get ready to go up on stage". 
A thunderous cheer went up from the audience as CASA for Kids was announced as the 2019 Great Fish Award Recipient and a grant award of $7,500. I sat there thinking, "I can't believe it! We won the Great Fish Award!"
It is because of the work of our CASA Superheroes - the advocates, board and staff that support them - that we are making such an impact in our community and able to expand services to Lincoln County. 
Thank you to our donors and supporters! It is because of you that we are able to recruit, train, and support volunteers from our community to advocate for abused and neglected children. 
Together, we are changing the stories of foster children in our community and helping to end child abuse and neglect - one child at a time. 
To read the full Whitefish Pilot article click here.