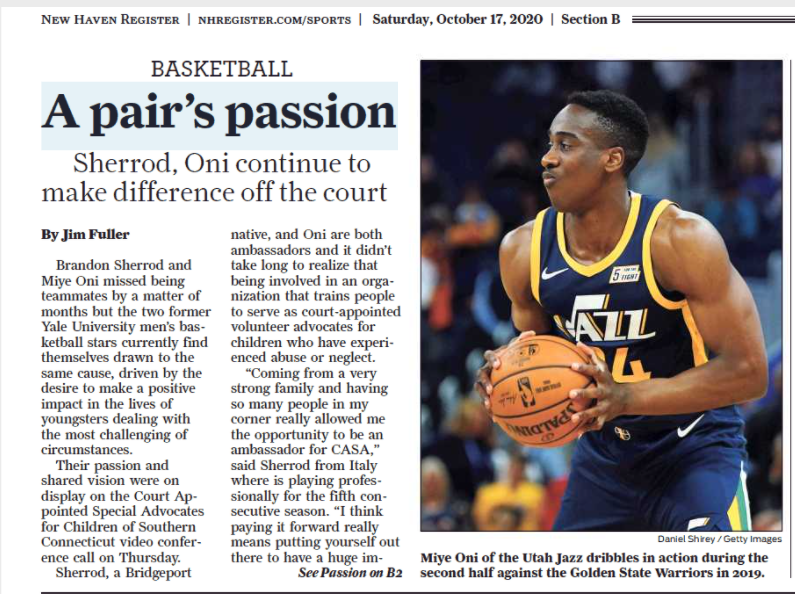 The CASA movement has a friend in the NBA--a professional basketball player helping to advance children's best interests by raising awareness of volunteers advocating for young people who have experienced abuse or neglect. Miye Oni, a second-year member of the Utah Jazz, and a key reserve on the team, has lent his profile, free tickets and VIP passes for youth in foster care--to Utah CASA in Salt Lake City. Miye, who is originally from southern California, first learned about the CASA movement while attending Yale University in New Haven, Connecticut, where CASA of Southern Connecticut launched in spring 2019. Weeks later, Miye Oni became the first Ivy League player drafted by the NBA in decades. By then, he had already offered to help promote the CASA cause, which he has now been doing during his first two NBA seasons.
 
Miye is one of two ambassadors for CASA of Southern Connecticut. He was featured with fellow ambassador Brandon Sherrod (a 2016 Yale graduate also playing professional basketball, in Italy in his case), in an October 2020 article that followed their participation in an online forum on the CASA movement (see video here). 
 
In the forum, along with CASA volunteers Dwayne Jackson and Brandon Sherrod, Miye spoke about his concern for children and his belief in the CASA approach. He recalled having endured some bullying himself, along with a nearly career-ending knee injury, and spoke of resilience. He credited his parents in particular for their steadfast love and encouragement, which he believes every child should have from family, but also through a constellation of support and advocacy that CASA volunteers can provide when needed. 
 
Miye's social consciousness as a thoughtful 23-year-old shouldn't obscure his professional calling as a lightly recruited high-school player originally slated to play Division 3 college ball, who defied the odds to become an NBA player of real promise. Already, he has been recognized for his ability and intellect on the court, as an extraordinarily hard-working team player known for his defense.
 
Miye has even expressed that, when his schedule allows, he may want to become an advocate himself.
 
In the meantime, during the NBA season at least, Miye's focus understandably is basketball.  As his Utah Jazz team competes for a top seed in the playoffs, members of the CASA network--not only those in Utah--may have reason to root for the Jazz, too.